What to Expect on Your First Visit to Atlantic Physical Therapy
Where to Go
We have two locations to serve you. Our Virginia Beach Office is located at 1016 First Colonial Road, adjacent to Sentara Virginia Beach General Hospital. Our Norfolk Office is located just off the I-264 Expressway at 6330 Newtown Road, Suite 100 in the Crossroads Center next to Denny's. Both of our offices have plenty of free parking.
What to Bring
For your first visit with us, please bring the following:
Your Prescription (Referral)

If you are being referred by a doctor or other health care practitioner, please bring the prescription (referral). This is necessary for

 

Medicare and Tricare

 

patients so that your physical therapy will be covered.
If you are seeing us first (Direct Access), no referral (prescription) is necessary. Most insurance companies have recognized the value in Direct Access and consider this a covered service. *** Medicare and Tricare do not currently cover Physical Therapy without a physician referral even though this is allowed in Virginia ***

Your Insurance Card

 

- This will allow us to file for your insurance benefits for Physical Therapy. We participate with most insurance plans and you can find more information on insurance coverage and benefits in that section of our website.
A Form of Identification

 

– Bring some form of identification such as a Driver's License. This helps to guard against someone else using your insurance benefits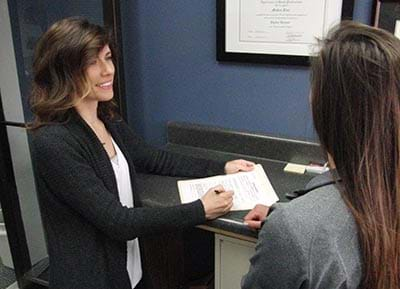 You can also speed up the Registration process for your first visit by downloading the following three forms and filling them out ahead of time.
What to Wear
To help us evaluate your problem we want you to be able to move freely, so you should wear clothing and footwear that allows you to move easily. Most of our Physical Therapy sessions involve exercise, so you should wear or bring clothing suitable for exercise. If you are coming from work or school, just bring your gear with you. Both of our facilities have areas that you can change.
Neck or Arm Problems
 If you are being seen for your neck, shoulder, elbow, or upper extremity please wear bring a loose fitting short sleeve or sleeveless T-shirt or top.
Lower Back or Leg Problems
If you are seeing us for a problem with your lower back, hip, knee, ankle, or foot it is best to bring or wear a pair of shorts and sports shoes so that we can evaluate the problem.
Foot Problems and Orthotics
If you are seeing us for a foot problem or need us to evaluate you for possible custom orthotics, please bring or wear loose fitting slacks or shorts and bring a bag with several pairs of shoes that you typically wear the most. This is particularly important for our patients who are runners.
What to Expect
After you have been checked in, you will see one of our expert Physical Therapists. We will begin by talking to you about how the problem began and getting other relevant information about your problem. We will then do a clinical examination of the problem to help collect information that will help us better define the problem and help design a specific plan of care for you.
How Much Time to Allow
While many patients are used to having less than 15 minutes with their doctor, we set aside more time, and most of our evaluations will take between 25-45 minutes. If you have time, we also will typically begin treatment the same day as your evaluation. If the first visit is only for the evaluation, it typically takes about an hour. If your first visit includes both the evaluation and treatment, it will typically be about two hours.
If you have a narrow window of time available or there is a specific time that you need to finish, just let us know and we will accommodate you.
Setting Up Future Appointments
At the end of your first visit, your Physical Therapist will discuss with you how often you should return. This may only be once or twice if the problem is easily managed with a self-directed home program or fitting of a foot orthotic, or it may be an extended period if the injury is more severe or if you had surgery. You will meet with our Front Desk Coordinators to set up your appointments, and if you will need regular physical therapy, we suggest that you schedule in advance for the next two weeks to have the best chance of getting the appointment times that you want.
We realize that Physical Therapy is only one part of your busy days, so our offices are open from 6:30 AM to 7:00 PM Monday through Friday, and from 7:00 AM to Noon on Saturdays. If you have not yet made your first appointment we will be happy to assist you!