David Volkringer, PT, MPT, OCS
Licensed Physical Therapist
Board Certified Clinical Specialist in Orthopaedics
APTA Certified Clinical Instructor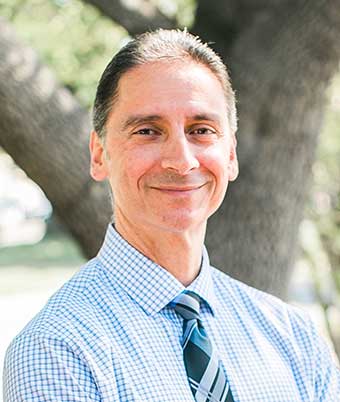 Mr. Volkringer is originally from New York where he was employed as a certified personal trainer and director of fitness in a sports medicine facility. He attended Virginia Tech where he received his Bachelors in Architecture. In 1996, he moved to Virginia Beach and began working in sports medicine with Brian Hoke and Andy Altman. Shortly thereafter, he earned his Masters in Physical Therapy from Old Dominion University while serving as president of his class and graduating with honors. He is now the facility Director of the First Colonial Road office.
Dave has earned a number of honors and recognition for his advanced level of knowledge. In 2003, he was awarded board certification as an Orthopaedic Clinical Specialist. In 2006, he was recognized by the American Physical Therapy Association as a Certified Clinical Instructor and was the Virginia Commonwealth University Outstanding Clinical Instructor in 2014.
Dave is also a sought-after instructor for health care practitioners. His teaching appointments include Old Dominion University in Norfolk, VA, the University of Dayton in Dayton, OH, and Touro College in Bay Shore, NY, where he instructs doctoral students in the evaluation and treatment of hip/pelvis injuries, lower extremity biomechanics, and foot and ankle conditions. He has been a guest speaker for his state's physical therapy conference and has developed and taught live and webinar continuing education courses since 2004. His special areas of interest include video assessment of walking and running gait and the evaluation and rehabilitation of sacroiliac joint and lower limb injuries, as well as orthotic therapy. He is an active member of the American Physical Therapy Association's Sports Section and is licensed to practice in Virginia.