Devin O'Toole, LPTA, BS
Licensed Physical Therapist Assistant
Advanced Proficency in Orthopedics
Workwell Certified Pre-Work Screener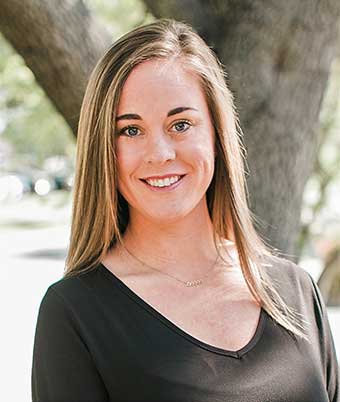 Devin received a B.S. degree in Human Nutrition, Food and Exercise from Virginia Tech in 2011. She then joined the clinical staff of Atlantic Physical therapy at the First Colonial office as an Exercise Specialist. Devin went on to complete her degree as a licensed Physical Therapist Assistant through the curriculum at Tidewater Community College in 2016. She rejoined the professional staff of our First Colonial office at that time.
Devin has achieved Advanced Proficiency in Orthopedics through the APTA's PTA Advanced Proficiency Pathways which is the premier program for recognizing a PTA's advanced knowledge and skills in a chosen area of physical therapy. She is also certified in Pre-Work Screening (PWS) through Workwell. She uses the Workwell PWS, a screening tool based on detailed job descriptions, to help assess fitness for the demands of the workplace. The Workwell PWS simulates tasks a worker will encounter on the job to allow employers and potential employees to identify potential mismatches between physical job requirements and physical capabilities of prospective workers.
Devin's clinical interests include orthopedic and sports physical therapy, and she has a personal perspective on sports medicine from her own experiences as a competitive athlete. She has vast experience with rehabilitation of a variety of post-surgical patients as well as conservative management of musculoskeletal injuries.
A native of Virginia Beach, Devin attended Cape Henry Collegiate School where her passion was athletics. During her high school career she helped her team to two State Championships as a member of the Varsity Field Hockey team. She was also a four-year starter on the Varsity Girl's Lacrosse team and named Team Captain her senior year. Devin closed her Cape Henry lacrosse career by being recognized as the school's first-ever female All-American. She is now the Head Coach for Princess Anne High School's Varsity Girls Lacrosse team. Devin currently resides in Virginia Beach with her husband, son, and beloved black lab.