Shoulder Problems and Treatment Strategies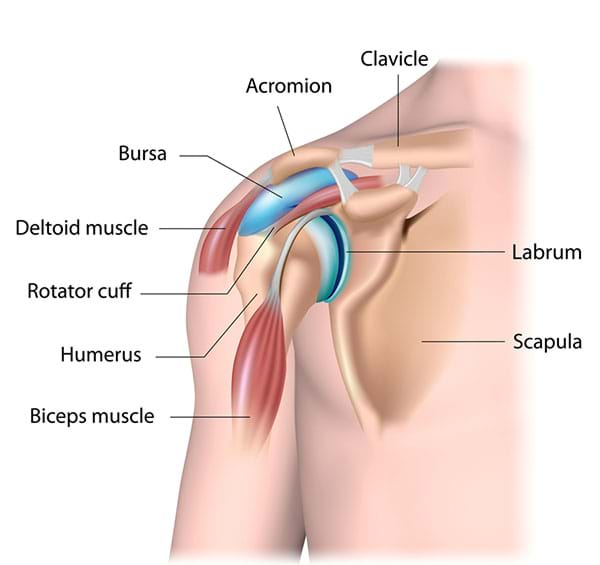 The shoulder is a complex joint that delicately balances mobility and stability with each movement. The ball and socket anatomy of the shoulder allows for a wide range of movement but inherently is more apt to injury or instability. Several key structures play a vital role in the health of the shoulder joint. First, a large network of muscles surrounds the shoulder to provide stability and movement. The rotator cuff is the most important and is comprised of four muscles to help keep the ball and socket together. Second, the labrum deepens the socket and also aides in stability. Lastly, a group of ligaments and a joint capsule help stabilize the joint and keep it working properly.
Injury to any of the above structures can upset the delicate balance of the shoulder joint. The result is often pain, loss of motion, decreased strength, and ultimately affected sport participation or limited daily activities.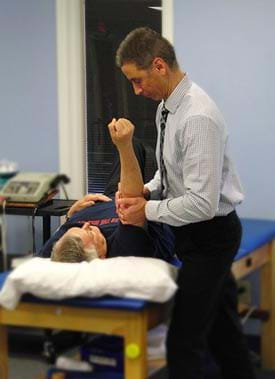 Many shoulder injuries are due to overuse and repetitive movements but others are a result of trauma. Common shoulder injuries we treat are: shoulder impingement, rotator cuff injuries (tendonitis and tears), biceps tendonitis, labral injuries, frozen shoulder, arthritis and shoulder joint replacements. All of these issues are unique in themselves but link back to the delicate balance of mobility and stability. Research has shown that many of these conditions respond well to physical therapy; however, in some cases surgery is required to restore the structure or integrity of the shoulder anatomy.
At Atlantic Physical Therapy we pride ourselves on staying current with all recent trends in shoulder rehabilitation, to include the overhead athlete. Whether you are experiencing shoulder symptoms from sport, work or normal daily activities, we are prepared to return you to your desired activity. Our expert Physical Therapists are also well trained to treat any surgical rotator cuff repair, biceps tenodesis, labral repair (SLAP or Bankart), and joint replacement. We work closely with local physicians and surgeons to provide the best care possible. Our staff employs the latest treatment strategies to aide in reducing pain, improving range of motion, and increasing strength. Each treatment plan is individualized to meet your needs, desires and goals.